Along with the scheduled coalition events, we have developed additional outreach opportunities for community groups and organizations, area schools and local businesses.
We're Going Virtual!
We know that community groups and organizations have changed how you meet, and we want to accommodate your meeting needs. As a result, our speaker's bureau is going virtual!
We would welcome the opportunity for volunteers from our key partner organizations to speak to your group about some of the more important, and sometimes unknown, history of the women's suffrage movement. Our speakers will also provide voting information, if appropriate.
The Women's Action Coalition Speaker's Bureau is available to local groups of any size or age. The length of the presentation is flexible and can be adjusted to meet your group's needs. We will work with your organization to present at a meeting on Zoom or the platform you prefer.
If your organization is interested in securing a speaker for an upcoming meeting, please contact us today with your request or any questions.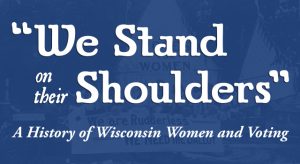 A Traveling Exhibit, developed by the Wisconsin Historical Society, is available for limited display at locations throughout the Fox Valley. The eight-panel display, "We Stand on Their Shoulders": A History of Wisconsin Women and Voting, explores moments when women in Wisconsin gained political rights and highlights a few key leaders.
Covering the ratification of the 19th Amendment, 1921 Wisconsin Equal Rights Act, 1924 Indian Citizenship Act and 1965 Voting Rights Act, the display shares the important story of women's quest for political rights and recognition through quotes, photographs and a timeline of events.
Schools, public libraries, historical societies, businesses and civic organizations in the Fox Cities may schedule the "We Stand on Their Shoulders" traveling exhibit at no cost for a two-week period. The display consists of four 39" x 87" freestanding, double-sided poly fabric banners on retractable banner stands. View the complete contents of each panel here.
This copy of the exhibit is made available by the Women's Action Coalition and managed by the History Museum at the Castle. Please contact Chief Curator Dustin Mack at [email protected] to reserve the exhibit for your business or organization as you reopen to the public.
"The way to right wrongs is to turn the light of truth upon them."
Educational Toolkits are available to schools at both the elementary and secondary levels. The age-appropriate toolkits provide information about the Women's Suffrage Movement and emphasize the importance of the right to vote.
Teachers can use the resources to develop their own curriculum on this topic or utilize ready-to-go activities. Toolkit content can be downloaded on the Resources page. Contact us for more information.
*For Appleton Area School District (Appleton, WI):
Physical elementary educational toolkits will be ready for all elementary schools in the Appleton Area School District. Check with your school's media specialist in the LMC for more information and availability.