Welcome to our resource hub! Here, you'll find carefully curated materials designed to deepen your understanding of the fight for women's equality, focusing on the 19th Amendment. Dive into our educational toolkits, learn from our Speaker's Bureau, explore our suggested books, and more.
We're Going Virtual!
We know that community groups and organizations have changed how you meet, and we want to accommodate your meeting needs. As a result, our speaker's bureau is going virtual!
We would welcome the opportunity for volunteers from our key partner organizations to speak to your group about some of the more important, and sometimes unknown, history of the women's suffrage movement. Our speakers will also provide voting information, if appropriate.
The Women's Action Coalition Speaker's Bureau is available to local groups of any size or age. The length of the presentation is flexible and can be adjusted to meet your group's needs. We will work with your organization to present at a meeting on Zoom or the platform you prefer.
If your organization is interested in securing a speaker for an upcoming meeting, please contact us today with your request or any questions.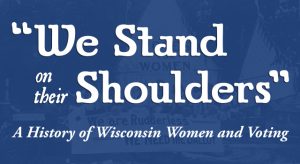 A Traveling Exhibit, developed by the Wisconsin Historical Society, is available for limited display at locations throughout the Fox Valley. The eight-panel display, "We Stand on Their Shoulders": A History of Wisconsin Women and Voting, explores moments when women in Wisconsin gained political rights and highlights a few key leaders.
Covering the ratification of the 19th Amendment, 1921 Wisconsin Equal Rights Act, 1924 Indian Citizenship Act and 1965 Voting Rights Act, the display shares the important story of women's quest for political rights and recognition through quotes, photographs and a timeline of events.
Schools, public libraries, historical societies, businesses and civic organizations in the Fox Cities may schedule the "We Stand on Their Shoulders" traveling exhibit at no cost for a two-week period. The display consists of four 39" x 87" freestanding, double-sided poly fabric banners on retractable banner stands. View the complete contents of each panel here.
This copy of the exhibit is made available by the Women's Action Coalition and managed by the History Museum at the Castle. Please contact Chief Curator Dustin Mack at [email protected] to reserve the exhibit for your business or organization as you reopen to the public.
Aimed at engaging young minds, our Elementary Toolkit introduces the history and concepts of the women's suffrage movement in an accessible and exciting way. Consider scheduling a speaker for your class through our Speaker's Bureau to supplement these resources
Coloring Pages
For older students, our Secondary Toolkit provides comprehensive materials that delve deeper into the intricacies of the women's suffrage movement, facilitating nuanced exploration and in-depth discussions.
"It's important to teach our female youth that it's OK to say, 'Yes, I am good at this,' and you don't hold back."
Discover more with these supplementary resources related to the 19th Amendment. If you have a resource that would enrich this collection, please do not hesitate to contact us.